I am often asked "how do you really know the age of a piece of jewelry?" I think it is important to know it is one of the hardest parts of my job. I don't just see a pretty piece of jewelry, buy it and then sell it. There is an immense amount of research that goes into each piece to ensure that I am selling it for exactly what it is. There are tools for testing stones and metal but when it comes to dating a piece of jewelry it is good old fashion research that includes studying hallmarks, paperwork, family history and siting personal engraving. And finally knowing jewelry style eras, manufacturing techniques and the appropriate wear a piece should have for its age. The following is a breakdown of these research steps I use to date my jewelry collection.  
Ideally a ring is "fully hallmarked" or date stamped (engraved). European jewelry is so easy because they have to date stamp by age, the US does not. The picture below is an example of a European hallmark which says where it originated from, it's gold content, maker and age. 
I am going to do another post of identifying all parts of a hallmark but for this topic the important piece is the last stamp on the right which is the date stamp.  In this example it is a capital cursive style "A"  which stands for 1950-51. These really easy ones to identify only make up about 5% of my collection.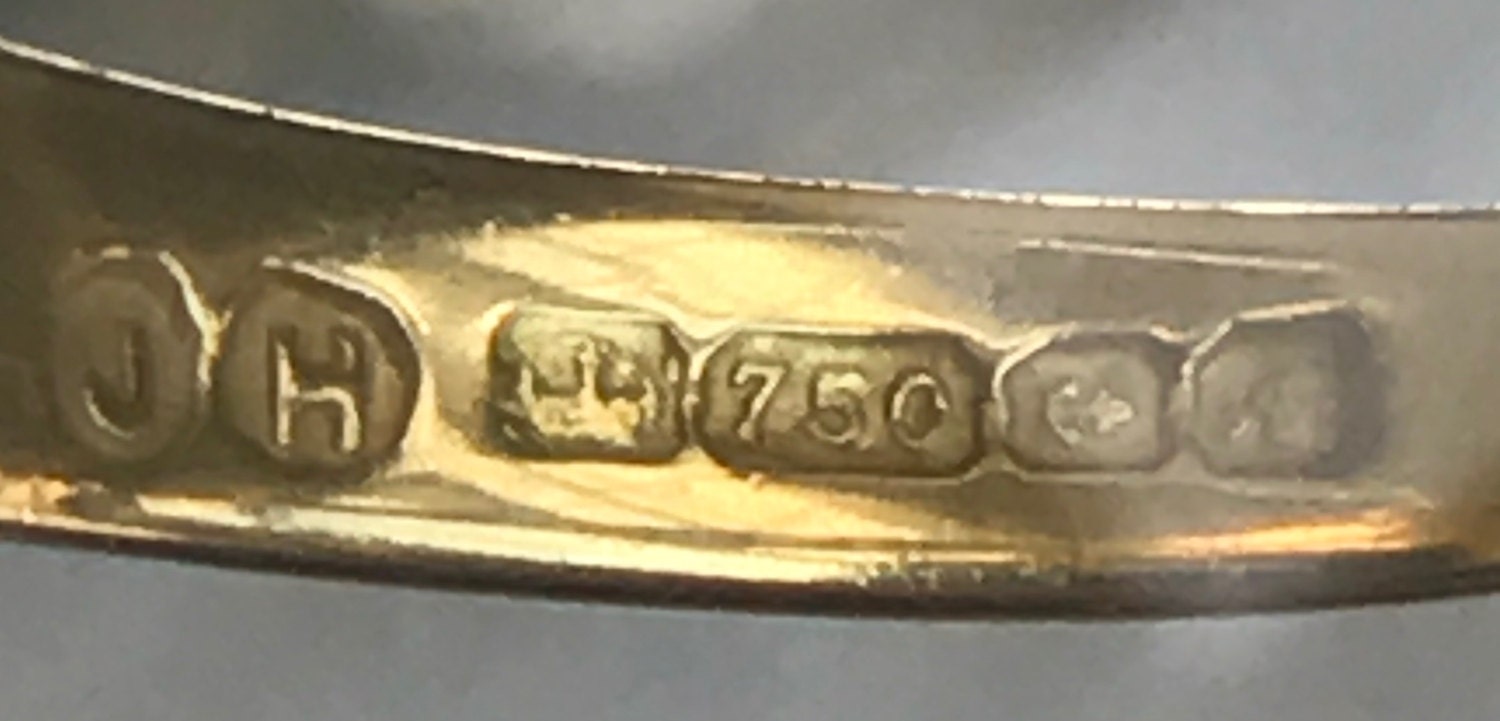 You will be hard pressed to find a vintage / antique dealer that doesn't love original paperwork, packaging or item dating. It is rare but occasionally I get an item in the original box, or with the original dated receipt, or the piece is engraved with a personal message and date (those are the best). There are also those occasions when the item has been with one family and while they want to sell it they want the story to live on. All of these things are like gold!!! While more research goes into an item like this than an item that is fully hallmarked, there is something about the story that documents or actual personal accounts can provide that are priceless. Below are a pictures of a Hattie Carnegie ring (yes those Carnegies, look up her story it is fascinating) with the original tags and proper markings and a picture of a wedding band engraved with the date, two of my all-time favorites.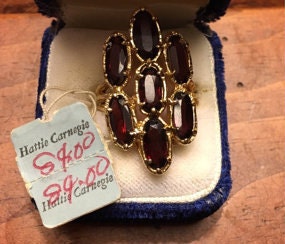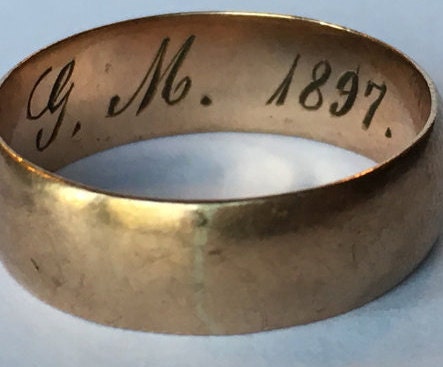 Style Eras / Manufacturing Eras / Jewelry Wear
When no history is available, is when the real research begins. Knowing styles from the eras, manufacturing techniques from the eras and being able to judge the wear to the ring are key. So knowing a style era is a good first step so the ring below, yes definitely art deco but is it original 1920 art deco or is it from one of the many art deco revivals (early 1940, late 1950, 1980). So next you look at a few things like markings (even though US jewelry is not fully hallmarked they do usually carry a gold content marking and a makers mark) which can offer good dating especially if you can nail down the maker and their time in the jewelry business. This particular ring has a makers mark of a jewelry manufacturer that only operated in the 1930s. So this piece is most likely from the very early 1930s when art deco was flipping into art nouveau.